5 Tips to Increase Home Equity
Your home is probably the most valuable thing you own. Increasing the equity you have in your home can go a long way toward increasing your overall net worth. Equity is your home's fair market value minus how much you owe on it.
Rising home prices, combined with falling mortgage rates, have helped homeowners increase their home equity over the past few years. Nationwide, home equity is rising. In the fourth quarter of 2020, the average homeowner gained about $26,300 in equity over the course of the year — the largest average equity gain since the third quarter of 2013. See the image below.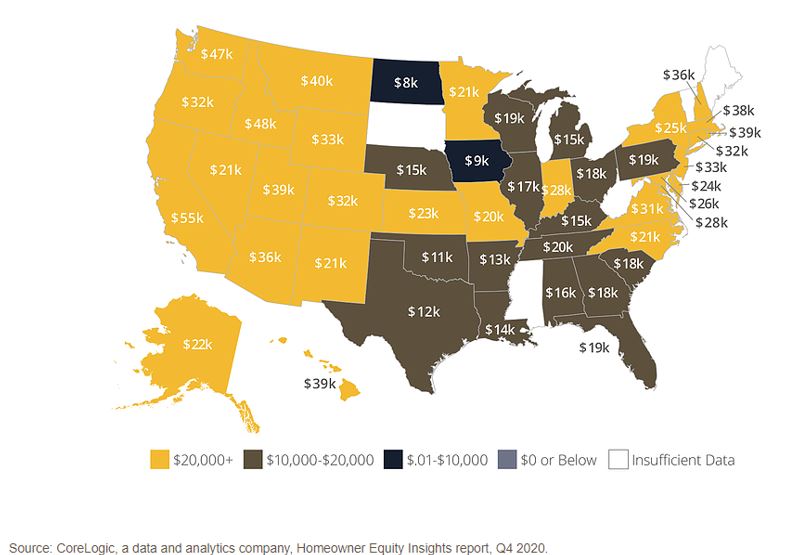 First, let's define what we mean by home equity.
Home equity is the amount of your home that you actually own. In other words, your home equity is equal to your home's current market value, minus your remaining mortgage balance. For example, if your home is valued at $300,000 and you owe $175,000 on the mortgage, your equity is $125,000.
Here are five ways to build up home equity.
1. Increase Your Down Payment
The more you put down on a home, the more of it you own right off the bat. Let's say the home you buy is valued at $200,000. If you make a $10,000 down, you will owe $190,000 on the mortgage and have $10,000 in equity. If, however, you increase your down payment to $20,000, you would owe $180,000 on the mortgage and have $20,000 in equity.
2. Make Extra Mortgage Payments
Since paying off your mortgage helps you build equity, you'll grow it even faster (and be able to pay off your loan sooner) by making extra payments each month. Many lenders even allow you to set your own recurring schedule, so you can make extra payments at an pace you feel comfortable with. If, for example, you had a 25-year loan for $250,000 at 3.75% interest, your monthly payments would be about $1,285.33. Increasing this by one-twelfth would add $107.11 to each payment. All of that extra payment would go toward the principal, thereby increasing your equity in the home.
3. Make Home Improvements
When you invest in home improvement projects–like an updated kitchen or bathroom–you're increasing its value and, thus, boosting its equity. Just be sure to choose upgrades that provide the biggest payback. This cost-vs.-value tool can help you figure out which remodeling projects provide the best bang for your buck.
4. Enhance the Curb Appeal
Improving curb appeal can boosts your home's value by 3-5%. Even simple things like trimming bushes, putting in a garden, painting and power washing can make an impact.
5. Shorten the Loan Term
Refinancing into a short-term loan will increase your equity faster. You will have higher monthly payments, but more of your payment will be going toward the balance, which increases the amount of the home you own.
Home Equity Lines of Credit (HELOC)
One benefit of building equity in your home is that you can tap into that equity with a home equity line of credit (HELOC). A HELOC is a revolving line of credit usually with an adjustable interest rate, which allows you to borrow up to a certain amount over a period of time. HELOCs work in a manner similar to credit cards, where you can continuously borrow up to an approved limit while paying off the balance.
If you have questions, don't hesitate to give us a call! We're here to help in any way we can.
This blog post was written by experts at Mortgage 1 and originally appeared on www.mortgageone.com. Michigan Mortgage is a DBA of Mortgage 1. 
https://www.michmortgage.com/wp-content/uploads/2021/04/Stone-house.jpg
620
620
mimortgage
http://www.michmortgage.com/wp-content/uploads/2017/12/MM-for-white-background-300x105.png
mimortgage
2021-04-22 10:12:20
2021-04-22 10:15:36
5 Tips to Increase Home Equity